Summary of activities
---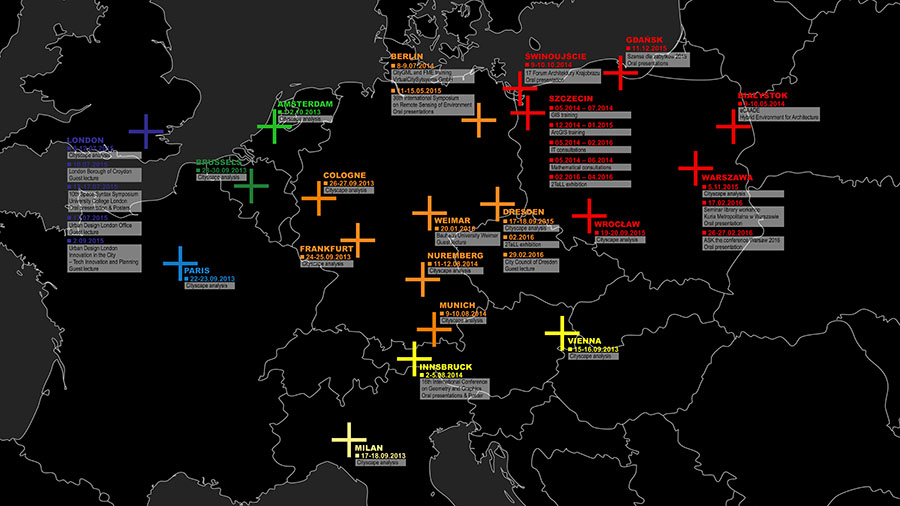 Cityscape analys
 VIENNA, 15-16.09.2013
 MILAN, 17-18.09.2013
 PARIS, 22-23.09.2013
FRANKFURT, 24-25.09.2013
COLOGNE, 26-27.09.2013
BRUSSELS, 28-30.09.2013
AMSTERDAM, 1-2.10.2013
MUNICH, 9-10.08.2014
NUREMBERG, 11-12.08.2014
LONDYN, 8-12.07.2015
DRESDEN, 17-18.09.2015
WROCŁAW, 19-20.09.2015
WARSZAWA, 5.11.2015
Conferences & Guest lectures
INNSBRUCK, 2-5.08.2014 | 16th International Conference on Geometry and Graphics – Oral presentations & Poster
BERLIN, 11-15.05.2015 | 36th International Symposium on Remote Sensing of Environment – Oral presentations
LONDON
08.07.2015 | London Borough of Croydon – Guest lecture
13-17.07.2015 | 10th Space Syntax Symposium University College London – Oral presentation & Posters
17.07.2015 | Urban Design London Office – Guest lecture
02.09.2015 | Urban Design London, Innovation in the City, Tech Innovation and Planning – Guest lecture
WEIMAR, 20.01.2016 | Bauhaus University Weimar – Guest lecture
DRESDEN, 29.02.2016 | City Council of Dresden – 2TaLL exhibition & Guest lecture
Trainings
BERLIN
07.2014 | virtualcitySYSTEMS GmbH – training on management, structures and data conversion systems of CityGML model standards and application of FME software
SZCZECIN
IT-consultations/trainings by external experts, focus on: GIS, individual software solutions and mathematical optimization of algorithms:
05.2014 – 07.2014 | GIS training
12.2014 – 01.2015 | ArcGIS training
05.2014 – 02.2016 | IT consultations
05.2014 – 06.2014 | Mathematical consultations
The 2TaLL project required an interdisciplinary approach, including integration of various scientific fields and reaching a number of research communities. A major achievement, important from the point of view of dissemination of findings and broadening knowledge of the researchers, was the participation and presentations delivered during three leading international conferences of various scientific profiles, such as geometry (ICGG16: International Conference on Geometry and Graphics, Innsbruck 2014), environment remote sensing (ISRSE36: International Symposium on Remote Sensing of Environment, Berlin 2015) and digital urban analysis (SSS10: Space Syntax Symposium, London 2015). Each of the conferences had its impact on the direction of research under the project. Contacts made resulted in further exchange of knowledge and presentations, e.g. in Croydon (City Planning Department, July 2015), London (Urban Design London, September 2015), Weimar (University of Bauhaus, January 2016) and Dresden (Planning Department, February 2016). During the project, in total 31 activities took place promoting exchange of knowledge in 20 European cities, including studies, conferences, presentations, exhibitions, etc.
For its successful implementation, the project required specialist training and consultations aimed at broadening knowledge and competences of project team members. A milestone development included a training on the CityGML standard and FME software organized by Virtual City System in Berlin (July 2014). The training helped developing skills of using CityGML models and enabled creating programs by project team members to process such data (crucial for e.g. 3d-negative). Other training and consultations were held in Poland and focused on GIS techniques, programing and mathematics. The transfer of knowledge enabled developing the capacity of the team, new analytical methods and computer applications (C++). The process helped verifying suitability of city landscape analysis systems (e.g. ESRI).
The 2TaLL project aimed at supporting the process of harmonious landscape development in a city in the context of assessing locations and spatial parameters of tall buildings. Methods developed, such as VIS, VPS, and 3d-negative, create a basis for various urban analyses in the field concerned. The scope of the research covered the visual impact and perception which, in the opinion of the authors, is the most crucial factor for the development of a city. The methods were applied to various cities in Europe based on their 3D models. The purpose was to show visual interaction promoting objective geometrical examination. The precision of results achieved can be debatable, whereas the method itself not. Of course, even the most precise simulation can merely support decision making in urban planning. However, considering the complexity of the issue, such a support can be invaluable.
Go To Top